Battlerite is a strange beast. It's a fantastic game with a terrible community, and while the two have always had a heated relationship, last week Stunlock Studios grabbed the Bunsen burner and turned it up to 11.
A few months ago when it was still a fresh meme for games to announce a new battle royale mode, Battlerite jumped on the bandwagon. Announced as a new mode, Battlerite Royale would take the same PvP gameplay into a larger map and see you fight 20 players to be the last one standing.
It was understood that development hours would be taken away from other promised features to create the mode, and everyone was excited. Just last week, the studio announced it would make the battle royale mode into a separate, paid game: Battlerite Battle Royale.
Players who have bought all champions would enjoy those champions in the new game, but the new game remains a paid-for experience. Item inventories would be shared between the games, but they'd remain separate.
The community response was swift:
And Stunlock have responded:
As seen in our 5/5 review, we adore Battlerite.
It is, however, a game with a troubled community. Throughout its Early Access period and post-launch, the Battlerite subreddit has hosted consistent complaints of developer neglect and lack of communication.
For the most part, we dismissed this as ungrateful entitlement. Stunlock Studios had a great run of post-release content in an extremely well-designed game, and the constant stream of complaints from players seemed against the run of play.
Last week, everything changed.
Running counter to the regular art/screenshot competitions that would usually populate the subreddit, players started putting up intentionally bad drawings as a form of protest. Which, when you know the characters, is actually quite funny to browse.
Submitted by Maskimus.
Submitted by Chilimonster_1.
Submitted by dzuna3.
What Are We Entitled To?
In the modern age of Games As A Service, control of our own servers has mods has been lost, but we've come to expect post-launch support — especially in multiplayer games. The "1.0" version of a game has become almost irrelevant as developer support is expected both pre- and post-launch.
But how far does that go? Beyond a point, is all that just entitlement?
Once we've paid for a product, received it, and enjoyed it, isn't the transaction technically complete? Especially in the case of Battlerite — the game never achieved perfection in terms of balance, but it went through a few metas that could've stood the test of time.
There's a larger argument to be had there about what players are actually entitled to. But in this case, it becomes academic when we consider what Stunlock Studios promised its community. Most of the below is still incomplete:
The community would be right to wonder how development resources have been spent over the last few months. If this had happened in the context of a Kickstarter campaign, or Early Access development, would people view these unmet promises differently?
Once the commitment is made, it's not unreasonable to expect it to be completed. The anger in the Battlerite community comes from passion – its players have wanted this amazing PvP experience to succeed for a long time – and more than any selfish motivations, players are just afraid the game will disappear.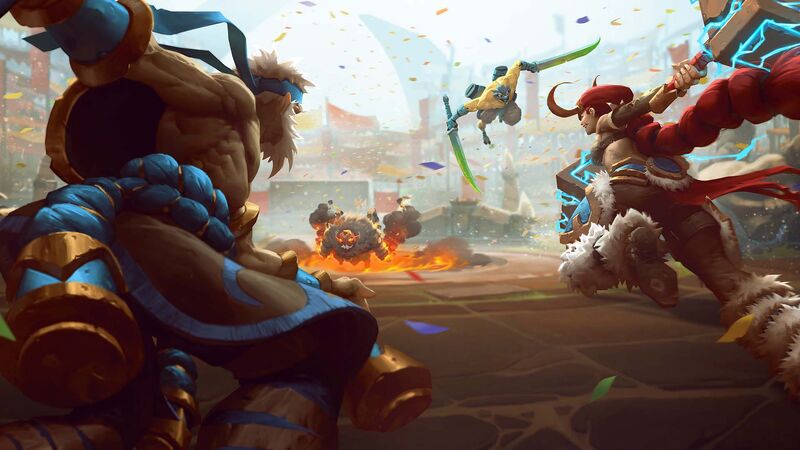 Even with the new battle royale mode as a part of the main game, there were concerns over it splitting the community. Battlerite's quality has thus far saved it from the curse of the multiplayer indie game, in which a certain critical mass is needed to stay alive. But with a new main mode? And now, a separate paid game? Who knows.
We still dip into Battlerite whenever there's time, because it's a genuinely unique and cleverly designed arena PvP game which we love. And we'll certainly try the new battle royale mode. But the last week has seen an unprecedented player rebellion – more than a vocal minority – and a new paid mode will have to be something incredibly special to combat the current feelings of neglect.